ASHRAE Wraps Up Successful
2023 Building Performance Analysis Conference
Conference Drew 240 Attendees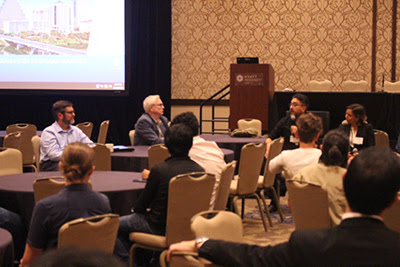 2023-24 ASHRAE President-Elect Dennis Knight moderated the Fishbowl session
where attendees participated in a discussion on AI.
The theme of the conference "Holistic Building Analysis: Linking Operational Energy, Embodied Carbon and Comfort" centered on a comprehensive approach of evaluating and designing buildings.
"This year's conference emphasized the importance of considering not only a building's energy consumption during operation, but also its carbon footprint throughout its lifecycle, while keeping occupant comfort and well-being in mind," said John Bynum, Conference Chair. "This theme challenged building professionals to rethink traditional building practices and adopt integrated strategies to create more sustainable and livable buildings."
The two-and-a-half-day conference drawing 240 building industry professionals, included keynotes, paper sessions, seminars, vendor demonstrations, panel discussions and debates from more than 90 presenters.
Keynote sessions featured presentations from Jason DeGraw
(Extreme Events and the Role of Modeling in a Resilient Future),
Duncan Cox
(Whole Life Carbon, is This the Right Approach?)
and Alejandra Menchaca
(Early Design: The Greatest Opportunity to Influence Performance).
Top attended sessions were:
Modeling for Carbon and Embodied Energy I – This session covered important aspects related to building and construction decarbonization.
Fishbowl Session – This session allowed members of the audience to freely "join and exit" a panel discussion on a topic introduced by the panel moderator, 2023-24 ASHRAE President Elect Dennis Knight.
Occupant Health, Wellbeing and Comfort – This session included three presentations on occupant comfort in indoor and outdoor settings and from thermal and visual perspectives.
In conjunction with the conference, the
2023 LowDown Showdown
modeling team competition was held where integrated teams of architects, engineers, designers and energy modelers worked together to create outstanding designs that solve real-world building efficiency challenges. This year's competition asked teams to envision a new creative reuse of the Houston Astrodome to provide needed urban amenities and to do so within the constraints of reduced fossil fuel use and reduced carbon emissions.
First place was awarded to team "Carbon Lighters." See the team's complete project overview on the Modeling Challenge webpage,
ashrae.org/2023LDSd
.
All sessions will be recorded and posted for on-demand viewing within 72 hours of the originally scheduled session. Presentations will remain available online for approximately 12 months after the conference has taken place.
Next year's conference will be rebranded as the 2024 ASHRAE Conference For Integrated Design, Construction & Operations, June 24-26, 2024 in Indianapolis, Ind. The conference will be hosted in conjunction with the
2024 ASHRAE Annual Conference
.
| | |
| --- | --- |
| | Peachtree Corners, GA 30092 |
You are receiving this email from ASHRAE because you are a member, purchased a product/service, or requested to be notified of educational opportunities from ASHRAE. To no longer receive these updates, unsubscribe or manage your email preferences.